Following your passion is probably the most important ingredient in life to find happiness. This I can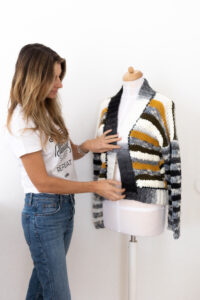 find in knitting and crochet since childhood. I went through periods of joy from making dresses of Barbie dolls, crocheted my own sexy T-shirts as disco outfit up to knitting a soft blanket for my little baby. All this was accompanied by feelings of fulfilment and joy, following your creativity from the very choice of material, colour and design to the final product and its use with pleasure and pride.
There is no better feeling than the one you have when you create your own handmade crafts, whether it is a sweater, a rug or just a scarf, to look forward going home to continue with your own project. And not to mention the benefits of knitting for your mind and brain. This beneficial effect of mindfulness also gave rise to our name, as yoga certainly has similar effects on our soul as knitting or crocheting. By offering knitting and crochet workshops we would like to share these great feelings with you.
OUR COLLECTION
We produce sustainable fashion, which is made by hand. It is a long process from design and material selection to the production itself. We use knitting and crocheting techniques, using only quality and natural materials.
Each piece is unique and original.
In the e-shop you will find several pieces in stock or with the possibility of production with a delivery time up to 14 days, depending on the complexity.
We also create custom-made products. Do you like a piece, but you have a different size? Or do you wish a product in a different colour or design? Do not hesitate to contact us.